Simplify CIS payroll processing with our innovative and user-friendly end-to-end software.
Primo Umbrella CIS Payroll Software automates all aspects of CIS pay and bill processes from on-boarding contractors, HMRC verification, and contract issuance to submitting CIS300 returns and payments.
How to Process CIS Payroll with Primo Umbrella
Paying CIS contractors is not just a payroll function. It's a supply chain management process that involves clients on one side and sub-contractors on the other, as well as financial ledgers and rigorous compliance responsibility.
CIS payroll processing can be risky and time-consuming. You will need to invoice clients correctly by applying the VAT reverse charge rules. When managing suppliers (sub-contractors), you must verify/match them with HMRC, notify them of their verification status, process timesheets, self-bill sub-contractors by deducting the correct tax, issue payment advice and then submit the CIS300.
While doing all these, you must update the financial ledgers for every transaction. You also have to re-verify the sub-contractors periodically and adjust and communicate their status where necessary. This process needs to be repeated every week and month to ensure compliance.
Good thing there's a simple solution that lets you do away with such tedious and time-consuming tasks, allowing you to focus on things that matter the most to your business.
Developed by Accentra, Primo Umbrella is a comprehensive end-to-end Pay and Bill platform that helps you manage Construction Industry Scheme (CIS) payroll processes super efficiently. Designed for umbrella companies and construction businesses alike, automation and comprehensiveness have been the central focus of its design.
Sophisticated sub-contractor on-boarding process

Contracts for services issued and tracked automatically for e-signature

Contractor verification & re-verification with HMRC with reminders

Timesheets accepted by bulk Import, Contractor Portal and Manual

Timesheets tagged to construction sites (optional)

Invoices consolidated and emailed per user configuration

Self-bills generated applying relevant CIS deduction, Margin and other deductions

Client receipts automatically downloaded from the bank and matched

Contractor Payment requests sent to the bank automatically

Domestic Reverse Charge VAT applied automatically

MTD compliant VAT100 Returns made from Primo Umbrella directly

CIS300 Returns made from Primo Umbrella directly

Comprehensive Sales, Purchase and Nominal ledger functionalities

Financial reporting including Trial Balance, P&L, and balance shee

Multiple company processing from a single screen

Consolidation of financial reporting across companies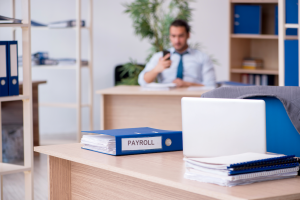 Why Choose Primo Umbrella as Your CIS Payroll Platform
Many systems in the market are promoted as CIS umbrella or CIS payroll software that treat CIS payroll as a sub-set of a PAYE scheme, limiting themselves to a sophisticated payroll tool with rudimentary contractor verification and CIS300 submission facility. The reality is CIS Payroll is not a payroll process but a purchase and sales process with the added complications of CIS compliance. With such systems, you will still need to invest in other third-party systems and associated staff training and expose yourself to the data transfer risks between the systems and the fragmented data.
Primo Umbrella CIS Payroll Software has been designed with a holistic approach to the complex requirements of construction industry scheme legislation. Sub-contractors are not your employees but your suppliers with special compliance requirements such as verification, VAT compliance, CIS tax deduction at source and so on. Billing the client requires VAT reverse charge compliance. Then there is the MTD compliance when submitting VAT returns. Our software solution encompasses all these in a single cloud platform complete with the core financial ledgers.
Primo Umbrella is not just a payroll or a timesheet tool, but an entire end-to-end solution that automates everything from on-boarding your sub-contractors to final financial reporting. With this revolutionary platform, you don't need any third-party systems to handle your CRM, accounting, and contract management, amongst others.
Key Features and Functionalities
1. Verify ID documents digitally
Our software utilises Jumio's fully AI-automated and hybrid verification services to help you verify contractors' identity, address, right-to-work status and passport validity, among other requirements. As part of the on-boarding process, contractors can upload a photo of documents such as passport, credit card statements, bank statements and utility bills from their mobile phone or computer and the software will do the rest.
2. Issue, track and sign contracts digitally
Primo Umbrella issues contracts based on pre-built templates to contractors, reminds and gets them signed electronically by the contractors, and attaches the contracts automatically to the contractor record. All you have to do is respond to dashboard alerts with a mouse click.
3. Contractor verification and reverification tasks are fully automated
As new sub-contractors are on-boarded, the software keeps a count of pending matching and verification and publishes an alert on the dashboard. With a simple mouse click, contractors are batch verified, records updated with the correct status and references and the verification numbers are communicated to the contractors. At specified intervals, system will prompt you to re-verify the contractors. With a single request, all contractors due for reverification get verified.
4. Timesheet processing made simple
Primo Umbrella supports timesheet inputs by bulk import from spreadsheets or individually from the contractor and admin portals. Spreadsheets sent by agencies can be mapped to Primo Umbrella timesheet structure easily, allowing you customise it for each agency. Multiple payment rates matching the agency business practice can be set up and mapped to the spreadsheet columns.
5. Flexible invoicing options
Invoices can be generated per timesheet or consolidated based on the agency's requirement. Consolidation can be done by the week or the site at which the contractors work. The invoicing layout can be customised for your business and can be unique to each agency as well.
6.Direct integration with banks for receipts and payments
With Primo Umbrella, you and your staff will no longer have to deal with bank statements or BACS/Faster files. Our software features direct banking integration so posting payments will be both quick and simple.
After you have reviewed and accepted the auto-matched entries, the software will input the payment entries into the accounting ledgers and prompt you to run the payroll for the contractors you wish to pay. Then, it will send a bulk payment request to the banking platform. Once you or a relevant officer authorises the payments either through a mobile app or web interface, the contractors will receive an SMS notification stating that their salaries have been sent to them.
7. Contractor payment control
With Primo Umbrella, you will have full control over when you pay your subcontractors. You will have the option to:
Pay on full cash receipt from the agency/end-client

Pay in proportion to the receipt from the agency/end-client

Pay on invoicing
8. Flexible margin methods
You can choose amongst the following methods:
Margin based on Timesheet Value (fixed or %)

Fixed margin per period

Percentage on timesheet value

Margin per timesheet

Margin per hour worked
9. Cost recoveries for insurance, PPE, etc.
In addition to the standard margin, you can apply deductions for other costs such as insurance, PPE, and training.
10. Sub-contractor self-billing and pay advices 
11. Integral CRM
Primo Umbrella comes with a powerful set of CRM features specially designed for CIS companies.
It is a customisable sub-contractor on-boarding module complete with ID verification, document uploads, contract issuance, and e-signature processes. A sub-contractor can use a mobile device or a computer to complete the on-boarding process using a very intuitive step-by-step guidance.
The document management tool lets you and your contractor centralise all compliance documents and pay advices in one place for easy access using the admin/contractor portal.
A sophisticated messaging and call-log system records all communication between your business and contractors. Messages can be tagged to a specific person or a deadline for response and status.
12. Process multiple companies and subcontractors
With Primo Umbrella, you won't need any other tools to process the payroll of multiple construction agencies and subcontractors. Our powerful multi-company processing interface will allow you to consolidate financial reports, create and amend agency records, process payroll, email payslips, and make contractor payments, as well as many other tasks.
Primo Umbrella's Alternative Payment Processing Models
Primo Umbrella is more than just payroll software for CIS and umbrella companies. It also offers the following payroll models, which you can access under a single licensing agreement when you sign up with us:
Umbrella PAYE

Standard PAYE

Joint employment PAYE

Fixed take-home Umbrella PAYE

Self-employed gross

Self-employed PAYE
For more information, please visit our payroll models page.
See Primo Umbrella in Action!
Discover Primo Umbrella's unique capabilities by requesting a free demo today. Get in touch with us via our contact details below or by filling out the form on this page.